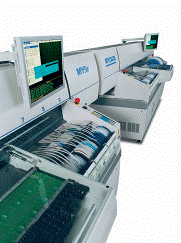 Our core activity at Axel Elettronica is the SMT and THT assembly of high-quality electronic components.
We offer our customers an end-to-end service, from initial project development right through to packaging of the finished product.
We have a highly competent and experienced workforce, and team up with other professionals with specific skills so as to provide our customers with a service that fully meets their expectations.
Our facility has been designed in such a way as to create a pleasant and safe working environment for our staff, contributing to ensure a high standard of production.
We constantly update the IT systems which give us total control of all procedures and enable real-time monitoring of the various stages of production.
This means we can rapidly and effectively respond to customer requests with totally dependable solutions.
We use state-of-the-art technology that is fully capable of meeting today's production needs. The frequent upgrading of our technical resources allows us to keep pace with the constant technological advancements taking place in the market.
We take our environmental responsibilities very seriously and use components that comply with the RoHS standards that have been in force since July 2006.
Our ESD capability guarantees the correct handling of components.
The simple concepts that sum up our philosophy.
Novità dal Blog

Axel compie 20 anni! 20 anni di attività sono un traguardo importante e vorremmo condividerlo con tutti coloro che hanno partecipato al raggiungimento di questa importante meta. Sono stati 20 anni di sfide, scelte e cambiamenti a volte audaci. 20 anni di impegno costante che ci hanno permesso di crescere e di ottenere tante soddisfazioni. […]
Sono aperte le iscrizioni allo Start-Up Contest per progetti dedicati allo sviluppo di prodotti elettronici ed alle applicazioni che si basano sull'Internet of Things (IoT). Il contest, che si svolgerà a Roma, mette in palio 75mila euro. Per partecipare c'è tempo fino al 30 Giugno 2016. Digi-Key e Superpartes, distributori di componenti elettronici online e servizi internet, […]