Control Panels

Axel Elettronica
Control panel design
Design of control panels for automation with integrated electronic instrumentation.
Design of panels and consoles with synoptics.
Design and development of software for PLC (Siemens – CGE – Allen-Bradley) with interfacing with existing systems if required.
Panel design in compliance with existing norms for final certification if required.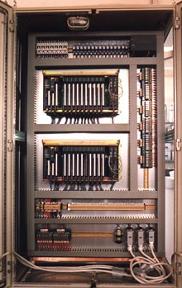 Control panel assemblies
articular care is taken during the production set-up and assembly of control panels so as to ensure the high quality and reliability of the  finished product.
At the end of the production run, each unit is subjected to full control and testing.
Production of complex sub-assemblies and modules for integration into existing equipment.
The materials used are supplied by leading manufacturers, thus enabling us to guarantee high-quality solutions and helping us to fully comply with environmental regulations.